When your garage floor is damaged it's extremely important that you take into account the entire extent of the damage. Evaluating the seriousness of the damage to your garage floor will ultimately determine whether you need to get an entire new concrete floor or if you can get away with using an epoxy overlay to fix the problems.
519-220-9714
If you have cracks in your concrete you need to determine whether the cracks indicate foundational issues or if they are just surface imperfections. There are two types of cracks that will help you determine the issues in your concrete floor:
Hairline (also known as Spider-Web)

Most common kind of crack in concrete
Less than one-eighth inch wide
(Usually) less than eighteen inches in length

Major (also known as Real)

More than one-eight inch wide
More than eighteen inches in length
Unusually shaped (v-shaped, straight horizontal, straight vertical, stair steps)
Unusual locations
Excessive in number
Getting a New Garage Floor
If the cracks in your floor meet the description of the Major crack, chances are that you'll need to replace your garage floor. This process can be long and expensive and must be accompanied by a professional evaluation from an expert in foundations and structures.Installing a new garage floor includes:
Ripping up your entire garage foundation and laying down a brand new floor

This essentially means starting from scratch

Replacing specific concrete slabs that are shifting
OR pouring new concrete over the broken concrete floor

This will work but it won't guarantee that all of your floor problems will go away
E.g.) If you have moisture problems this will simply cover up the problem, not solve it
Replacing a garage floor is an extreme and expensive process but sometimes it's necessary, especially when you consider the fact that simply covering up the problem could end up costing you more money in the future.
Getting an Epoxy Coating
If the cracks in your floor meet the description of a Hairline crack and there aren't foundational issues, an epoxy overlay may be the best option for your renovation. This type of concrete coating can offer the best balance of economy and quality that will not only transform your garage aesthetically but is also a tough, long-lasting coating that is extremely practical. Some of the most notable benefits of an epoxy overlay are:
Moisture and Stain-Resistant

This makes epoxy flooring a great choice for floors that get their fair share of spills and leaks
Resists Damage

Impact and abrasion resistant, which will prevent further damage in the future

Resurfacing Qualities

This is the best reason for using an epoxy overlay to improve your cracked concrete floor
These coatings are self-leveling and provide a smooth, polished finish that can cover up blemishes

Easy to Clean

Only requires soap and water to clean
Wipes clean like a kitchen counter
The process of installing an epoxy coating is as follows:
First we have to evaluate your garage floor to get an idea of how much prep work has to be done to get it ready to be coated
After that we give the floor a thorough cleaning, removing as many spots and debris as we can
Next we diamond grind the entire floor area, opening the concrete pores so they are ready to accept and bond tightly to the prime coat of Silka 156
Once this is done we patch in the remaining cracks and holes with an epoxy crack filler
Finally, we apply the primer coat followed by 12-16 ml of Silka 261 (100% Epoxy)
Clearly, this is a long an arduous process that would take you days on your own. Garage Enhancements will cut that time in half and guarantee that every step is carried out with professional techniques and practices that will transform your garage into your dream workspace. If you're not convinced, take a look at another one of our before and after pictures from a renovation that included an epoxy floor coating:
Before
After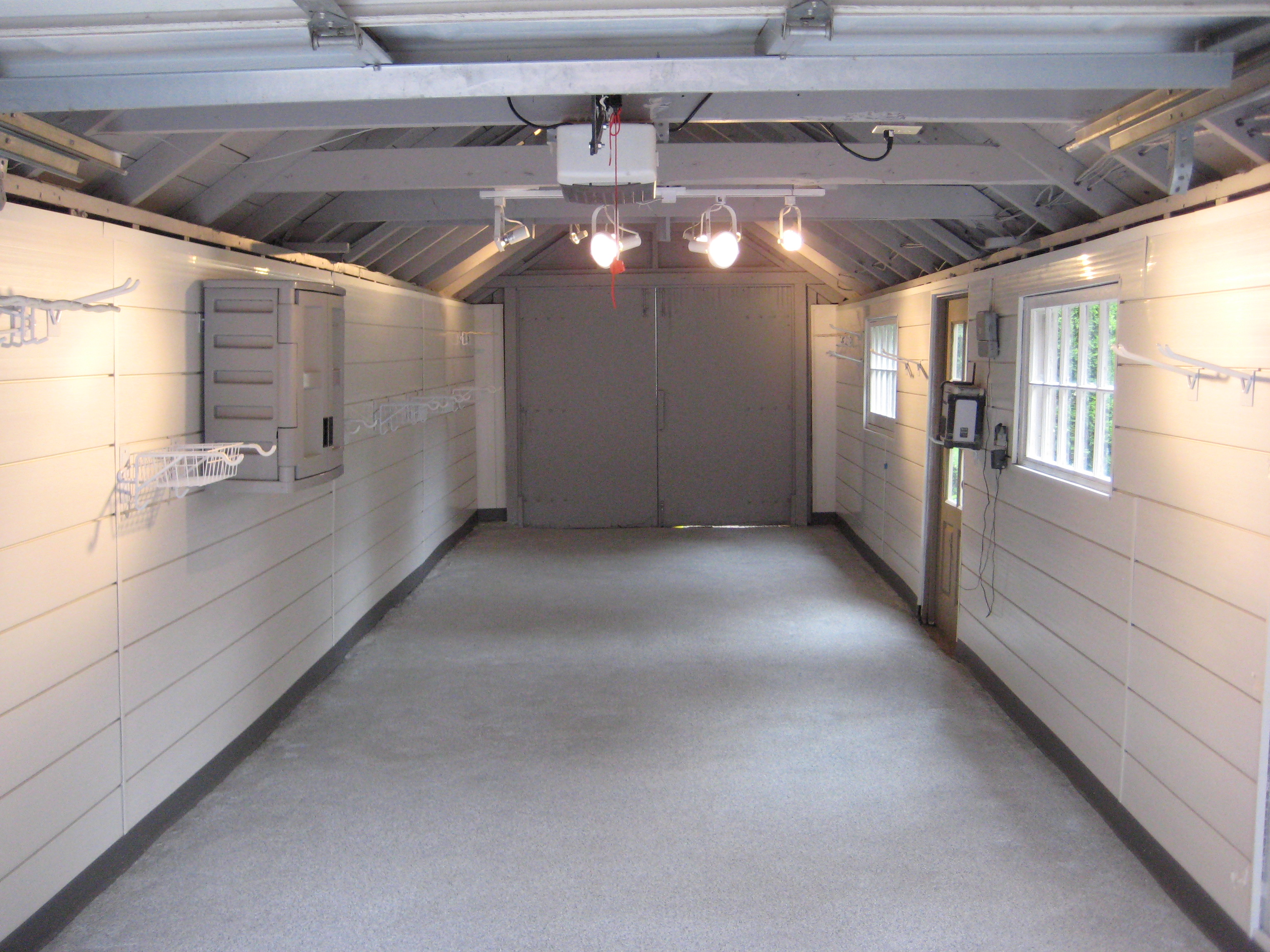 For more information about the benefits of an epoxy coating click here and for more information about the process of installing an epoxy coating click here. If your floor has serious structural issues, you need to consider getting a new garage floor, but if you're just looking to redesign or redefine your garage an epoxy coating will do the trick!
519-220-9714