Epoxy concrete coatings provide a wear resistant and chemical resistant surface for garage floors. They are tough, long-lasting and will transform your garage space into a completely different, professional, and contemporary workspace. A few of the benefits of using an epoxy coating are:
519-220-9714
Moisture and stain resistant
Resists damage
Professional and high class appearance
Extends the life of your concrete floor
Easy to clean
Resurfaces your floor
Here is one example of a garage we renovated that included using an epoxy coating:
Before
After
For a detailed examination of the benefits of using an epoxy coatings take a look at our blog here. Here at Garage Enhancements we work closely with Sika Canada Inc., who provides some of our epoxy products and materials. One of the products we use from them is the highly versatile Silkafloor® 261. This product is mainly used for:
Institutional buildings
Recreational buildings
Storage and logistic areas
Wet and dry processing areas
There are a lot of things that are great about this product, the most prominent of those being:
Easy Application
Good chemical and mechanical resistance
Good adhesion to concrete
Easily cleaned and maintained and therefore makes a more sanitary work environment
Durable, impermeable, seamless, and aesthetic
Repels the growth of bacteria and/or fungus
Does not have a strong order (which is important during the application process)
Unlimited colour choices
Accepted by the Canadian Inspection Agency
Silkafloor® 261 comes in a variety of colours including but not limited to:
RAL 7038 Agate Grey
RAL 5007 Brilliant Blue
RAL 7030 Stone Grey
RAL 6028 Pine Green
RAL 7012 Basalt Grey
RAL 3010 Brick
RAL 1015 Light Ivory
RAL 1018 Zinc Yellow
RAL 1001 Beige
To see an example of what this product looks like click here and to see what epoxy coating colours we offer click here.
Applying an epoxy coating is a multi-step and complicated process.
First we have to evaluate your garage floor to get an idea of how much prep work has to be done to get it ready to be coated




After that we give the floor a thorough cleaning removing as many spots and debris as we can



Next we diamond grind the entire floor area opening the concrete pores so they are ready to accept and bond tightly to the prime coat if Sika 156.


Once this is done we patch in the remaining cracks and holes with an epoxy crack filler

Finally, we apply the primer coat followed by 12-16 ml of Sika 261 (100% Epoxy).

Clearly, this is a long an arduous process that would take you days on your own. Garage Enhancements will cut that time in half and guarantee that every step is carried out with professional techniques and practices that will transform your garage into your dream workspace. If you're not convinced, take a look at another one of our before and after pictures from a renovation that included an epoxy floor coating:
Before
After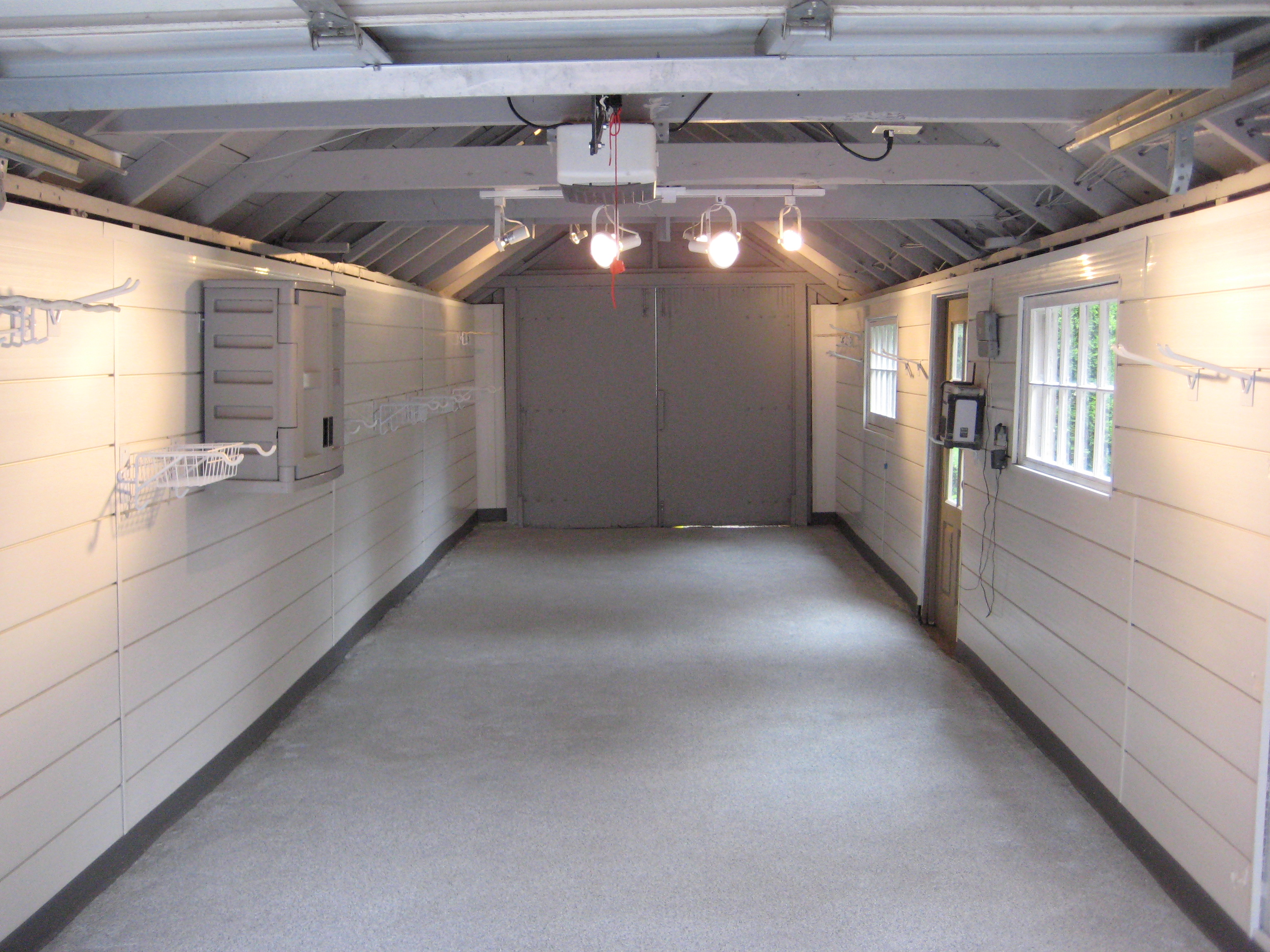 Contact us today to get a free estimate on your next garage project and let us help you turn your garage into the perfect workspace you always imagined it could be!
519-220-9714